Silk Painting Workshops
Beginning
Intermediate
Advance Techniques​​
​Mobil Workshops
& Silk Painting Demonstrations​
marjorie@pezzoliart.com
More Fun with Color - Silk II
3 Hour Class

Resist work - 2 Minimum, 8 Students Maximum
Simple line drawings, your favorite doodles, or color blocking can be made for scarves or your walls!
You may take this class even if you have
no prior silk painting experience.
We will use the small silk for practice
before working on the scarf.
Feel free to bring a simple full size drawing done in black ink, such a medium point Sharpie marker
to place under your silk. Think of coloring book
drawings as a guide line for your work.
Roll your design up - DO NOT FOLD
The paper drawing will be placed under your
silk for copy lines to draw the gutta resist
on to the fabric. You may also just free hand
your design, very easily done for color blocking
and abstract designs.
Think about incorporating words into your design.
11" x 11" Habotai silk for practice.
Habotai scarf 8" x 54"
Class Fee - $85.00
2018 © PEZZOLI ART ALL RIGHTS RESERVED
2 1/2 Hour Class
Non Toxic Heat Set Dyes Safe for children
There is no resistance in the brush, the beautiful colors glide across the fabric. Painting on silk is it is like painting on air!
No drawing skills needed.
11" x 11" Habotai silk for practice.
8" x 54" Habotai scarf.
Class Fee - $75.00
Both Texture Technique Classes below - 8" x 54" Silk Satin Scarf - same price
Habotai means "soft as down" in Japanese
"Magic Touch" Silk Boards
​2 silk board, 81/2" x 11" - $35

1st board for experimenting, learning how the color flows
2nd board, create your masterpiece!
Student & Scout discounts​​

Complete info - Click Here​​

Class locations:
Bravo Art School
Idea Field
Monthly classes available
or book your Group!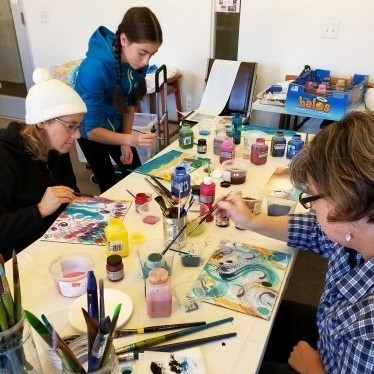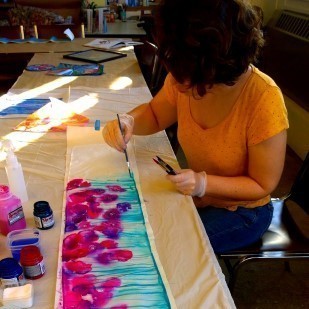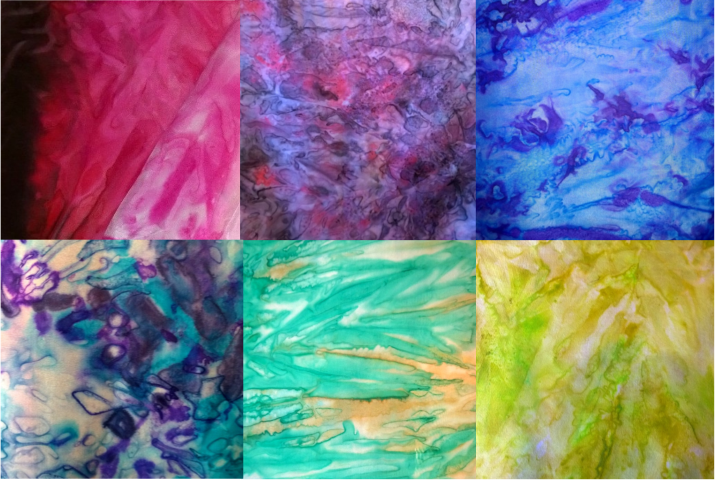 Non-Toxic heat set Silk Dye/Paint
​1 qty - 8" x 54" Silk Satin Scarf &
1 qty -practice 11" x 11" Habotai
$40
Allow for 1.5 hours
You may add up 1 -2 additional scarves for
$20 each per person only​
Easy instructions to set your scarf at home
Instant Gratification - Make & Take!
Dye bond immediately, no setting required